Livemix CS-SOLO Personal Mixer
🔍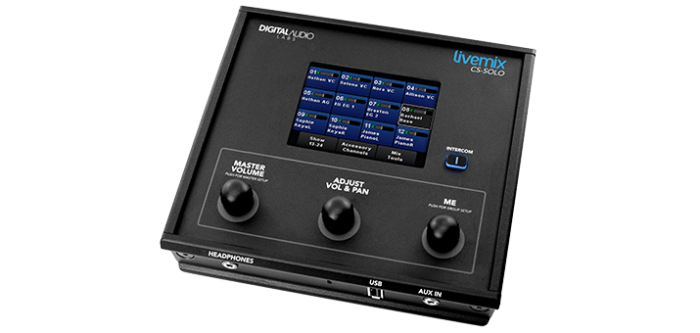 Livemix CS-SOLO Personal Mixer
$4,282.00
描述
Feature Overview:
Designed with both volunteer and professional users in mind

Connect two CS-SOLO units to one MIX-16/MIX-32 port

24 channels with DSP and also DSP on master output

Rugged frame with clearly labeled functions

LCD touchscreen and tactile knob
Make a great personal mix with the Livemix CS-SOLO,  the most feature rich personal mixer on the market. The LCD touchscreen with custom naming makes creating a mix easy. Dedicated knobs provide quick access to essential features. The CS-SOLO provides 24 channels plus accessory channels, each with EQ and compression. The master output features EQ, compression and reverb. MirrorMix® remote setup and mixing, mute and solo options, channel grouping and LCD dimming make the Livemix system deep enough for professionals, but simple enough for volunteers. To maximize stage mixes, connect two CS-SOLO units to a single port on the MIX-16 or MIX-32. The first personal mix is the blue "A Mix" while the second personal mixer unit will be the red "B Mix". Power and audio is supplied to the second CS-SOLO over a network cable connected to the CS-SOLO THRU port.