🔍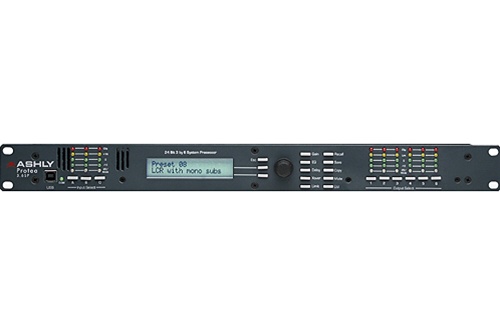 Ashly Protea-3.6SP
描述

Protea™ System Processors
Our Protea™ System Processors (SPs) with DSP deliver premium sonic performance with an intuitive and user-friendly software platform.
The 3.6SP (3-in x 6-out) and 4.8SP (4-in x 8-out) are a great choice for both live sound and use in fixed installations like worship facilities, schools and performance spaces. Use the full Protea™ DSP Suite—crossover, equalization, compressor/limiter and delay—with up to 682ms on the input and the output, SPs serve as a front-end processor for delay stacks. The three inputs on the 3.6SP give you added flexibility, particularly when most other processors only offer two inputs.
SPs have front panel controls for immediate access to the settings during a dynamic, live performance. The front and rear panel USB ports allow you to program the processors via Ashly's Protea™ Software—and set a password-secured security system to prevent unauthorized tampering.