BlackmagicDesign Atem Television Studio
🔍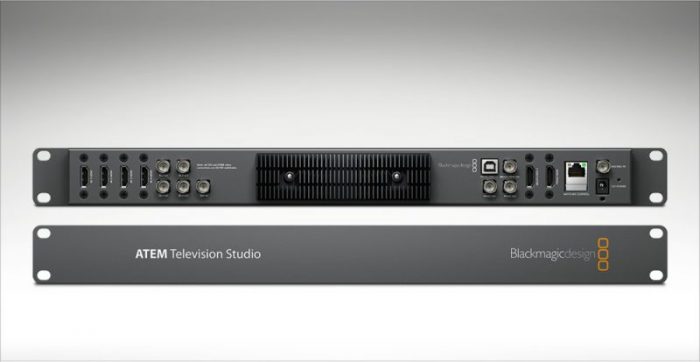 BlackmagicDesign Atem Television Studio
描述
ATEM Television Studio
The easiest way to create professional HD video live!
Imagine creating your own live multi camera productions with your own professional, broadcast quality switcher! You don't have to be a video professional to start using the ATEM Television Studio because it's so simple to set up and easy to use! ATEM Television Studio works with everything from low cost consumer HDMI HD cameras to the biggest professional broadcast cameras. Just plug them in and you're live!
Live Production
ATEM Television Studio lets you create professional multi camera production on the fly! There's no faster, easier or more affordable way to edit live events! ATEM Television Studio is perfect for schools, weddings and event videographers, houses of worship, government and corporate meetings, seminars, sports, concerts, theatrical events and more! Now you can capture your clients' live events with multiple cameras, adding professional broadcast quality graphics all live and in real time! ATEM Television Studio lets you create true broadcast quality programs that are much more professional looking than simple single camera production!
Portable Design
ATEM Television Studio features an elegant and strong all metal design with the highest quality video and audio connections that work with virtually all SD, 720p HD and 1080i HD formats. You get four HDMI/SDI inputs along with program and multi-view outputs, USB, ethernet, and AES/EBU audio! The 1RU design is less than an inch deep and runs silent, so you can use it anywhere!
Live Control Software
Advanced control software for unlimited creativity!
For the ultimate in creativity and control, ATEM Television Studio includes a beautifully designed software control panel included free. Use the switcher and parameter palette controls to switch cameras live and change transitions and key settings. You can load graphics into the switcher directly for display or keying, adjust the built in audio mixer, control cameras and change switcher settings, all from your Mac or PC laptop. Only ATEM switchers let you start at a lower cost because you are not forced to buy a control panel!
Multi View
Monitor all your cameras on a single television!
When you're working with multiple cameras, it's important to be able to see all of the video sources at the same time. ATEM Television Studio's built in multi view output lets you see up to 10 channels of video on a single HDMI television or SDI monitor! You can see cameras, graphics, preview and final program output all on the same display at the same time. Customize labels, set safe area markers, and more! Simply connect any standard HDTV and you get the perfect multi camera monitoring solution for any location!
Transitions
Massive creative choice with broadcast quality transitions!
Instantly use broadcast transitions like mixes, wipes, dips and more when switching between sources! You get massive creative choice with a wide range of options, including borders, position, and direction with ATEM Television Studio's built in transitions. When you're in the middle of a busy live production, use the Preview Transition button to see exactly how the transition will look before the effect goes live on air!
Media & Graphics
Add professional titles and graphics in seconds!
Now you can save thousands of dollars by eliminating external character generators! It's simple to load up to 20 graphics for use with the two built in media player frame stores for exciting custom titles and logos! Use the included Photoshop plug-in to download graphics from Photoshop directly into the ATEM media pool. Now you can get titles and graphics on air in seconds!
Keyers
Use green screens and mix graphics with video live!
ATEM Television Studio includes an upstream keyer with full chroma keying for green screen shots! Imagine loading a rendered background and using the chroma keyer for incredible virtual set effects! The upstream keyer can work with chroma, patterns, shapes, and linear keys. ATEM Television Studio also includes 2 downstream keyers so you can easily add graphics and bugs to your video for professional results!
Audio Mixer
Professional on-screen
audio mixing.
Mix cameras and audio inputs with ATEM's built in easy to use audio mixer. When you open the audio mixer control tab on your Mac or PC you get a complete on-screen multi track mixing interface with level meters! Easily direct camera and external audio with precision level and balance adjustments, quickly enable and disable channels, or set audio to automatically follow the video source!
Camera Control
Remote control for Blackmagic Studio Cameras!
When working with the new Blackmagic Studio Camera, you get full control of your remote cameras right from the ATEM software! You can control camera settings and have access to a full color corrector that includes a traditional CCU layout and a DaVinci Resolve style primary color corrector. Now you can use all of your color correction skills from Resolve for balancing cameras and adding incredible creativity to your live production!
Inputs
Live production with up to 6 cameras!
ATEM Television Studio is a professional broadcast SDI switcher that also includes loads of HDMI connections, giving you a total of 6 inputs. That means you can start affordably with consumer HDMI cameras, or work with professional broadcast cameras. The built in AES/EBU audio input jack lets you connect professional audio devices. Unlike other switchers, all video inputs feature automatic frame re-synchronizers, so you don't need expensive genlock cameras. You can plug in any device and it always works!
Outputs
Broadcast standard SDI and consumer HDMI outputs.
ATEM Television Studio includes both professional SDI outputs and HDMI outputs so you can monitor cameras using multi view and output your program on virtually any display, including consumer HD television sets! The SDI program output lets you connect your ATEM Television Studio to professional decks and recorders, like the HyperDeck Studio, so you can record your program at the highest possible quality.
Software Panel
Included free with every ATEM Production Studio 4K Switcher is the beautifully designed ATEM software control panel for both Mac and Windows. With a full visual switcher control panel and parameter palettes for quick switcher adjustments, you can load graphics into the media pool, adjust the audio mixer, control and balance cameras, update switcher settings and more! For the ultimate in portability you can use the ATEM software on a laptop, so you can work easily in small spaces with full control of all the switcher's features!
Hardware Control Panel
Complete switcher control in a compact design.
If you prefer to use a dedicated hardware control panel, you can add the optional ATEM 1M/E professional broadcast panel. The super compact ATEM 1M/E panel features high quality buttons, knobs and controls for the most demanding 24/7 live production environments, giving you precise hands on control of all switcher functions!